Editor's Note: CNN columnist John D. Sutter is reporting on a tiny number – 2 degrees – that may have a huge effect on the future. He'd like your help. Subscribe to the "2 degrees" newsletter or follow him on Facebook, Twitter and Instagram. He's jdsutter on Snapchat.
This is the story of a giant pile of beef.
Well, 1.27 pounds (0.58 kilos) of brisket, to be exact.
But before I get into the business of explaining where this meat came from, and why eating this stuff has a massive, unexpected effect on climate change, I feel the need to confess something: That huge slab of brisket, which came to me by way of Snow's BBQ, a delightful shack of a place out here in the heart of Texas beef country, easily was one of the most food-orgasm-y things I've tasted.
The phrase "OHMYGOD" dropped out of my mouth, involuntarily.
And I don't eat much meat.
A colleague of mine had a better line.
"I mean, f— Al Gore, right?"
I write about climate change for a living and appreciate what the former U.S. vice president has done (or has tried to do, in his own wooden way) to raise awareness about what I consider to be one of the most critical issues facing the planet and people. But, in that moment, I had to laugh and agree with my co-worker.
Forget the climate.
This stuff was too good.
Here, take a look.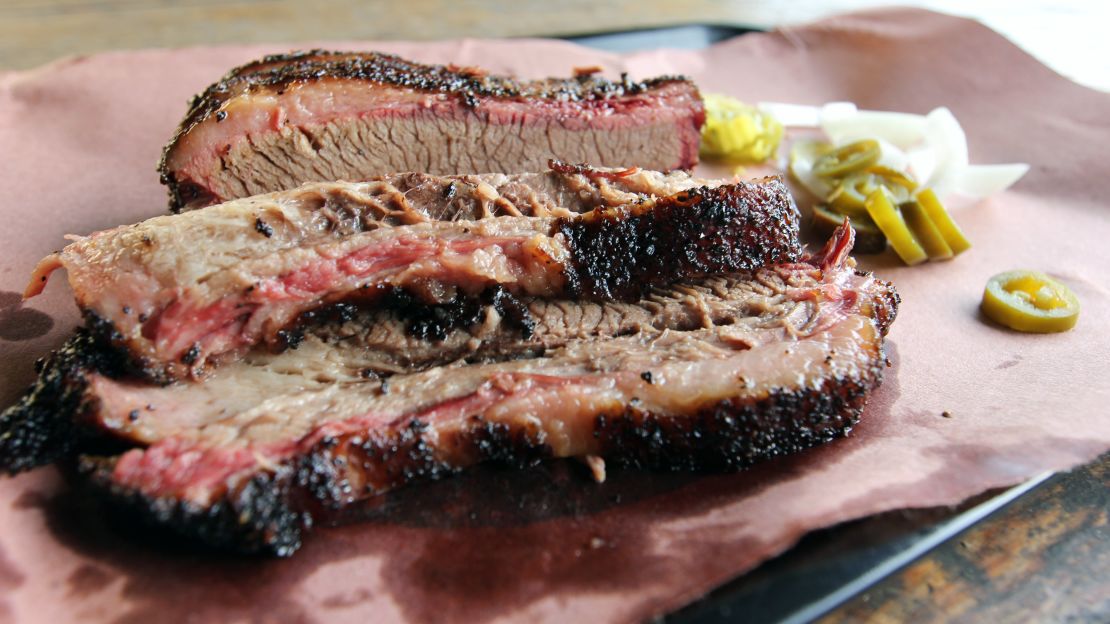 Daniel Vaughn, BBQ editor at Texas Monthly, and the No.1 carnivore I know – this is a man who has developed white bumps on his tongue, apparently from failing to eat nonmeat food groups – helped me dissect the meal. Note the salt-and-pepper "bark" at the edge of the meat, the red tree rings where the smoke that cooks the beef, slowly, overnight, has left its artistic mark. The cloudlike strips of beef were so tender locals insist you peel them apart with your fingers, not a fork and knife.
Knowing the beef's backstory only adds to the experience.
The barbecue "pitmaster" at Snow's is 80-year-old Norma Frances Tomanetz. White hair, red apron. Everyone calls her "Tootsie." Tootsie's shift starts at 9 p.m. and ends the next day after about 600 pounds of beef have been served. Her recipe is simple: salt and pepper. And, in addition to working here – again, at age 80 – she also serves as a middle-school custodian, helps manage a cattle ranch and takes care of two sick family members. (They could use your prayers, by the way.)
Texas beef people are lovably tough.
You want to root for them.
But there's "an inconvenient truth" about beef consumption, too, as I would discover on a trip through the supply chain of that meal: Beef is awful for the climate.
Don't blame me alone for bearing the bad news. In a Facebook poll, thousands of you overwhelmingly voted for me to report on meat's contribution to climate change as part of CNN's Two° series. You commissioned this highly personal topic over more widely feared climate change bad guys such as coal, deforestation and car pollution.
Cattle and climate?
They're not often used in the same sentence.
But eating beef, as I'll explain, has come to be seen, rightly, in certain enviro circles, as the new SUV – a hopelessly selfish, American indulgence; a middle finger to the planet. It's not the main driver of global warming – that's burning fossil fuels for electricity, heat and transportation – but it does contribute significantly.
Globally, 14.5% of all greenhouse gas pollution can be attributed to livestock, according to the U.N. Food and Agriculture Organization, the most reputable authority on this topic. And a huge hunk of the livestock industry's role – 65% – comes from raising beef and dairy cattle.
Take a look at how beef compares with other foods.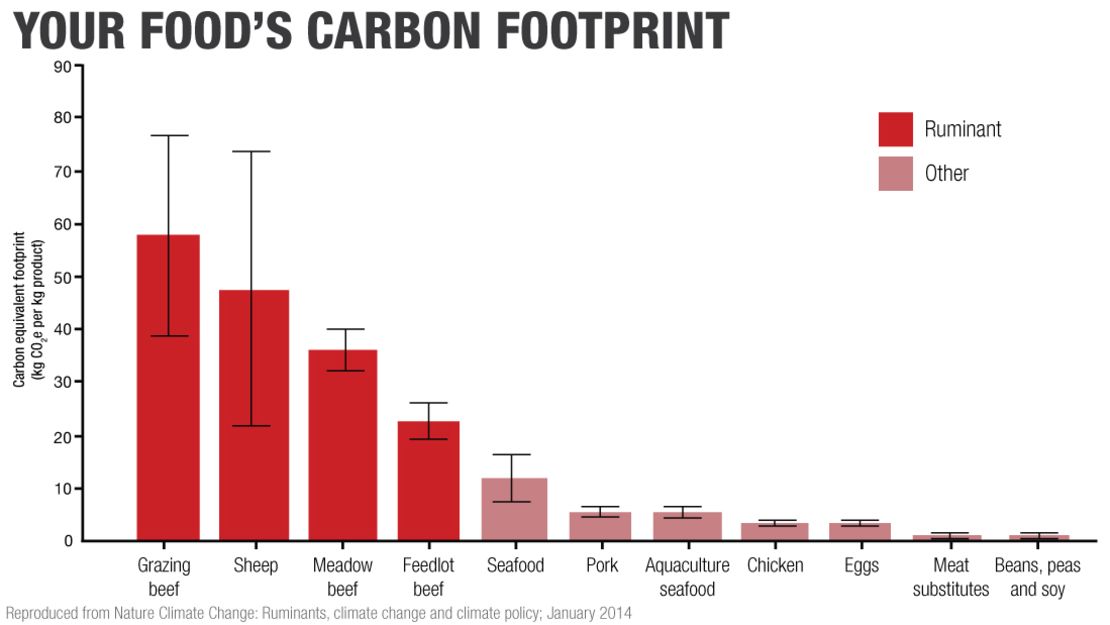 The world is faced with the herculean task of trying to limit warming to 2 degrees Celsius, measured as an increase of global temperature since the start of the Industrial Revolution, when humans began burning fossil fuels. That's the point at which climate change is expected to get especially dangerous, leading to megadroughts, mass extinctions and a sea-level rise that could wipe low-lying countries off the map. That one little number – 2 degrees – is the subject of international negotiations in December in Paris, which are critical if we're to avert catastrophe.
We've already warmed the atmosphere 0.8 degrees Celsius since the Industrial Revolution; and the World Bank says we're locked in to at least 1.5 degrees Celsius of warming based on the pollution we've already put into the atmosphere.
It will be hard to meet the 2-degree goal no matter what; it will be impossible if livestock pollution isn't part of the mix, said Doug Boucher, a PhD ecologist and evolutionary biologist who is director of climate research and analysis at the Union of Concerned Scientists.
"We can't hit that goal without it," he told me.
In Texas, as in most places, however, no one seems too worried.
"Everybody here in Central Texas goes for beef," Tomanetz told me. "People are gonna eat what they wanna eat – what their appetites call for."
Any vegetarians around?
None she's knows, personally.
"They won't eat their beef," she said with a grin, "so somebody else will."
70-mile meal
It wasn't long before I wished somebody else had.
The night after I ate at Snow's, it felt like a grapefruit was trying to climb out of my esophagus. I ate 0.61 pounds of the beef I was served, leaving 0.66 pounds of the stuff on my tray. I gave the leftovers to a guy at the hotel desk because I couldn't stand to look at it anymore. I felt so crazy-uncomfortable, so full.
The next morning, over a decidedly small, vegetarian breakfast, I calculated the climate change pollution associated with my massive meal. I did so with the help of data from the U.S. Environmental Protection Agency and from Anne Mottet, livestock policy officer at the FAO.
Result: Nearly 29 kilograms of CO2-equivalent gases.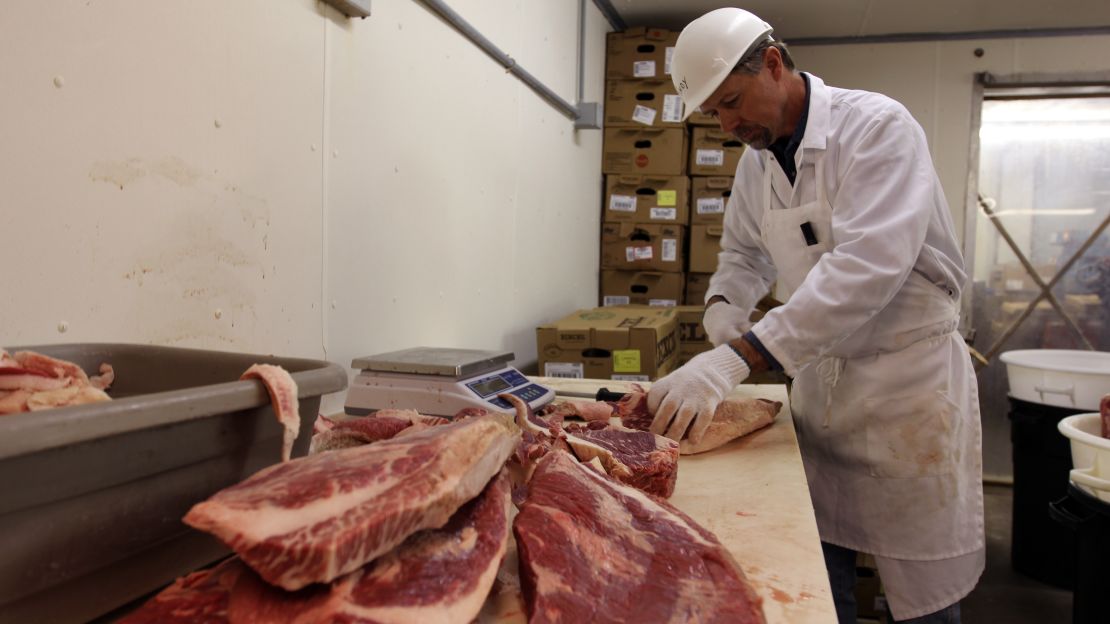 From the atmosphere's perspective, that's about the same as burning enough fuel to drive an average American car 70 miles, or 113 kilometers.
A 70-mile meal.*
That's San Antonio to Austin, Texas.
Granted, this is a beyond-ridiculously-oversized portion of meat. And, depending on how you calculate beef's climate footprint (Mottet, from the FAO, provided me with her organization's estimate for beef cattle raised in feedlots in North America), you could arrive at very different results.
Regardless of the exact mileage, however, this is illustrative of an indisputable fact: Beef contributes to climate change in a substantial and outsize way.
Why is that the case?
And where does all of that pollution come from?
I went on the road to find out.
Where are you city slickers?
First stop: I wanted to meet a cow like the one I ate at Snow's. And, as it turned out, I wouldn't need to travel far. Kerry Bexley, who opened Snow's BBQ with Tomanetz in 2003, owns a ranch nearby. Some of the cattle he raises may end up being smoked and served as brisket at the restaurant. Possibly even mine.
If only I could find Bexley and his ranch. I kept getting lost en route.