(CNN) —
The bomb used by the Saudi-led coalition in a devastating attack on a school bus in Yemen was sold as part of a US State Department-sanctioned arms deal with Saudi Arabia, munitions experts told CNN.
Working with local Yemeni journalists and munitions experts, CNN has established that the weapon that left dozens of children dead on August 9 was a 500-pound (227 kilogram) laser-guided MK 82 bomb made by Lockheed Martin, one of the top US defense contractors.
The bomb is very similar to the one that wreaked devastation in an attack on a funeral hall in Yemen in October 2016 in which 155 people were killed and hundreds more wounded. The Saudi coalition blamed "incorrect information" for that strike, admitted it was a mistake and took responsibility.
In March of that year, a strike on a Yemeni market – this time reportedly by a US-supplied precision-guided MK 84 bomb – killed 97 people.
In the aftermath of the funeral hall attack, former US President Barack Obama banned the sale of precision-guided military technology to Saudi Arabia over "human rights concerns."
The ban was overturned by the Trump administration's then-Secretary of State Rex Tillerson in March 2017.
As the US-backed Saudi-led coalition scrambles to investigate the strike on the school bus, questions are growing from observers and rights groups about whether the US bears any moral culpability. The US says it does not make targeting decisions for the coalition, which is fighting a Houthi rebel insurgency in Yemen. But it does support its operations through billions of dollars in arms sales, the refueling of Saudi combat aircraft and some sharing of intelligence.
"I will tell you that we do help them plan what we call, kind of targeting," said US Secretary of Defense James Mattis. "We do not do dynamic targeting for them."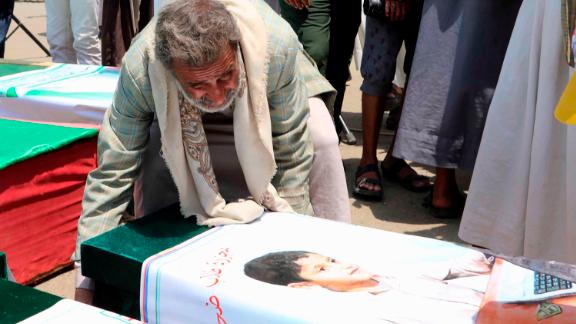 STRINGER/AFP/Getty Images
The latest strike has left the community in Yemen's northern Saada governorate reeling.
Zeid Al Homran visits the graveyard where his two little boys are buried every day. On this occasion, he brought their five-year-old brother along. He is all Al Homran has left.
"I was screaming in anger and all around me women were throwing themselves on the ground," he told CNN. "People were screaming out the names of their children. I tried to tell the women it couldn't be true but then a man ran through the crowd shouting that a plane had struck the children's bus."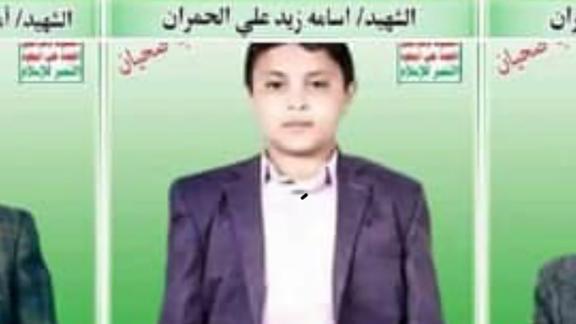 Houthi Media
'Bodies scattered everywhere'
The bomb's impact as it landed on the bus full of excited schoolchildren on a day trip was devastating.
Of the 51 people who died in the airstrike, 40 were children, Houthi Health Minister Taha al-Mutawakil said last week. He added that of the 79 people wounded, 56 were children.
Eyewitnesses told CNN it was a direct hit in the middle of a busy market.
"I saw the bomb hit the bus," one witness said. "It blew it into those shops and threw the bodies clear to the other side of those buildings. We found bodies scattered everywhere, there was a severed head inside the bomb crater. When we found that, that was when I started running. I was so afraid."
Some of the bodies were so mutilated that identification became impossible. Left behind were scraps of schoolbooks, warped metal and a single backpack.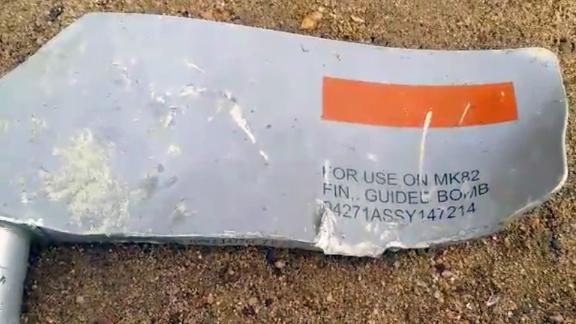 CNN
Images of shrapnel filmed in the immediate aftermath of the attack were sent to CNN by a contact in Saada. Subsequently, a cameraman working for CNN filmed footage of the shrapnel after the cleanup operation had begun.
Munitions experts confirmed that the numbers on it identified Lockheed Martin as its maker and that this particular MK 82 was a Paveway, a laser-guided bomb.
Asked to comment on CNN's evidence, coalition spokesman Col. Turki al-Maliki said: "The democratically elected government of Yemen has been displaced by an Iranian-backed insurgency by minority Houthi militias."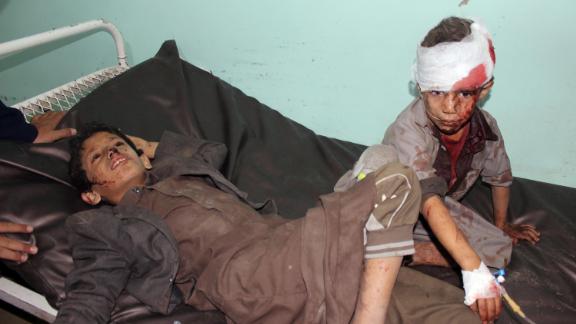 STRINGER/AFP/Getty Images
"The coalition is in Yemen with the support of the UN Security Council to restore the legitimate government. The coalition is operating in accordance with international humanitarian law, taking all practical measures to minimize civilian casualties. Every civilian casualty is a tragedy."
He added that it would not "be appropriate for the coalition to comment further while the investigation is underway."
Saudi Arabia denies targeting civilians and defended the incident as a "legitimate military operation" and a retaliatory response to a Houthi ballistic missile from the day before.
A Pentagon spokeswoman, Lt. Cmdr. Rebecca Rebarich, declined to confirm the provenance of the bomb.
"The US has worked with the Saudi-led coalition to help them improve procedures and oversight mechanisms to reduce civilian casualties," she said.
"While we do not independently verify claims of civilian casualties in which we are not directly involved, we call on all sides to reduce such casualties, including those caused via ballistic missile attacks on civilian population centers in Saudi Arabia."
The United Nations has called for a separate investigation into the strike, one of the deadliest since Yemen's war began in early 2015. Since then, the Saudi-led coalition has battled rebels in support of exiled President Abdu Rabbu Mansour Hadi.
Greater US oversight
There have been growing calls in the US Congress for Saudi Arabia, a key US ally in the Middle East, to do more to cut civilian deaths in Yemen, where three years of conflict have taken a terrible toll.
On Monday, US President Donald Trump signed a defense spending bill that includes a clause requiring the Pentagon and State Department to certify that Saudi Arabia and the United Arab Emirates, another key coalition member, are doing enough to reduce civilian casualties. This report must be submitted to Congress within 180 days and then annually for the next two years.
The US, alongside the UK and France, is a major supplier of arms to Saudi Arabia.
Trump signed a nearly $110 billion defense deal with Saudi Arabia's King Salman bin Abdulaziz Al Saud in May last year in the Saudi capital, Riyadh, on what was his first stop abroad as President.
In the same month, the US government reauthorized the export of Paveway munitions to Saudi Arabia, ending Obama's December 2016 ban.
Retired Rear Adm. John Kirby, who served as a spokesman for the State Department and Pentagon under Obama, said the Saudis had a right to defend themselves against missile attacks from the Iranian-backed Houthis but that the Obama administration did not believe they were striking the right balance between that need and proper care for civilian life.
Asked whether the US had moral complicity in the deaths in Yemen, he said: "The issue of complicity is one that international lawyers probably are best to work out, not somebody like me."
"What I would tell you is that we certainly had under the Obama administration deep concerns about the way the Saudis were targeting, and we acted on those concerns by limiting the kinds of munitions that they were being given and stridently trying to argue for them to be more careful and cautious."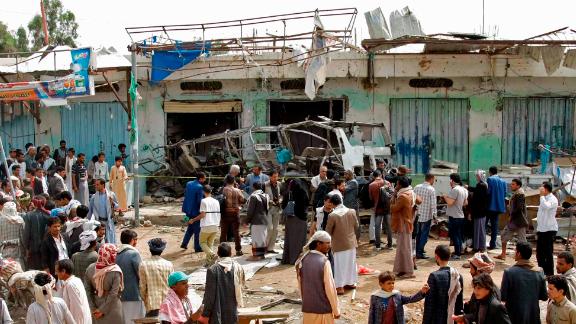 Hani Mohammed/AP
'Legitimate military action'
In the immediate aftermath of the strike, al-Maliki, the coalition spokesman, told CNN it had been aimed at a "legitimate target."
"No, this is not children in the bus," he said. "We do have high standard measures for targeting."
The Saudi ambassador to the UN, Abdullah Al-Mouallimi, similarly told the Security Council this week that the strike was a "legitimate military action" and that "the targeted Houthi leaders were responsible for recruiting and training young children and sending them to battlefields."
"We are not engaged in the civil war. We will help to prevent, you know, the killing of innocent people. I'm very concerned about the humanitarian situation," US Defense Secretary James Mattis said Sunday when asked about the strike. "Wars are always tragic, but we've got to find a way to protect the innocent in the midst of this one."