Correction: This story has been updated to correct the value of tomans to dollars.
(CNN) —
Far from the spotlight of the global standoff between the US and Iran, there is a Tehran that gets up early, stocks the food markets, attends dawn prayers and sweeps the roads before the morning traffic takes hold.
In this Iran, there is another take on the US. Here, the enemy is not the American people, but the policies of the leaders they voted for, where the smallest changes in the price of food or the value of the US dollar wreak havoc on Iranians' daily lives.
"I got things to do… I don't have time to chant 'Death to America,'" says Mohammad Reza, 42, as he fills the frozen lockers of a market stall with large plastic bags full of sheep's offal and heads dragged from the ice buckets of his truck.
This Iran is a long way from President Trump's hardline Twitter-baiting, the dismissal of new talks from Iran's Supreme Leader, and the hopes of Iranian and American moderates that diplomacy could have saved the nuclear deal that brought a delicate truce after years of tension.
It's just after 5 a.m. on Tuesday. Reza says work in his slaughterhouse has dropped in the past weeks, as the first wave of renewed US sanctions swung into effect.
"Costs keep changing every day," he said. "It's 500,000 tomans (about $50) one day for a sheep, tomorrow it could be 550,000. So it's not economically feasible for us. It's not worth it."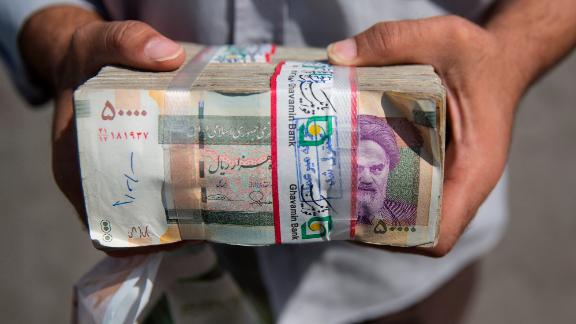 Simon Dawson/Bloomberg/Getty Images
Around the corner from Reza, four street cleaners play football instead of brushing the road, enjoying the last moments of dark before the sun roasts Tehran's asphalt. Rahimi, 41, picks dusty plastic bottles from the grass verge.
"I am not that educated, I don't have a deep understanding," says Rahimi, who like most Iranians interviewed for this article preferred to give only their first name.
"But they [USA] don't act justly. We don't count in Mr Trump's eyes. He has problems with the government, but what's my sin? We don't count."
Trash is washed down the gutter before the market opens. Another man, carrying stacks of cabbage into a stall, said he didn't blame the US for economic hardship, but local mismanagement.
"It's got nothing to do with the USA," the man said, requesting anonymity when criticizing local officials. "They don't provide me with my bread. They are not here."
He added that his housing costs had shot up 40% in the past year and that protests – like those that have sporadically popped up around Iran this year over economic issues – were futile.
As with all interviews for this article, a government-provided translator was nearby.
This is poor, struggling southern Tehran, where looming renewed US sanctions have already caused a dramatic slide in the local currency, and where food prices are something that change daily.
Outside a tent, erected near a mosque so local prayers can continue as the minarets are repaired, a homeless man who slept on a bench overnight picks the scabs on his legs. A cleric arrives to lead the faithful, this, two mornings before Eid al-Adha.
About a dozen conscripts wander by, likely returned for the religious holiday from their postings, and enter the tent to pray. Two decline to be interviewed on camera as they are not allowed to show foreigners the military insignia on their arms.
Another, Sajud Ibrahimi, 25, in civilian clothing with a large backpack, said: "The people of USA are very respectable. When we chant 'death to America,' it's to the government of America not the people. We have no problem with the people of the USA."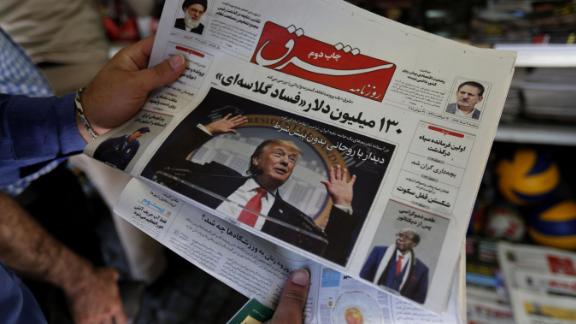 ATTA KENARE/AFP/Getty Images
In response to US criticism that the Iranian military has spread its influence across the region, he said: "I haven't fought in Iraq and Syria but if the military hadn't gone there, we would be fighting Daesh [ISIS] on the streets of Iran's cities."
It is two days after the 65th anniversary of the US-backed coup in 1953 that removed the democratically elected government of prime minister Mohammed Mossadegh. On that anniversary, Iran's leading diplomat Mohammad Javad Zarif tweeted that the US seeks regime change in Iran through "pressure, misinformation & demagoguery."
Zarif was one of the moderate architects of the 2015 deal under which the Obama administration and EU allies lifted some sanctions in exchange for Iran curbing its nuclear program, from which President Trump pulled out in May.
Last week, the US Secretary of State, Mike Pompeo, created the Iran Action Group, a panel of officials intended to focus US efforts to "change the Iranian regime's behavior," fueling Iranian suspicions that Washington seeks to unseat Tehran's government.
This kind of acrimony is on display in the remains of the US Embassy in Tehran, where the CIA once plotted coups, and American diplomats were held hostage for 444 days in 1979. Inside, mannequins take the seats presumably once filled by US embassy staff, around a table, sealed inside a transparent plastic box, intended to prevent eavesdropping.
The corridors are decorated with graffiti like "there is no time for [unreadable] in Iran any more," or the former instructions for a document furnace, or a mechanical opening door to a safe room. The old passport-forging desk is laid bare in a glass case.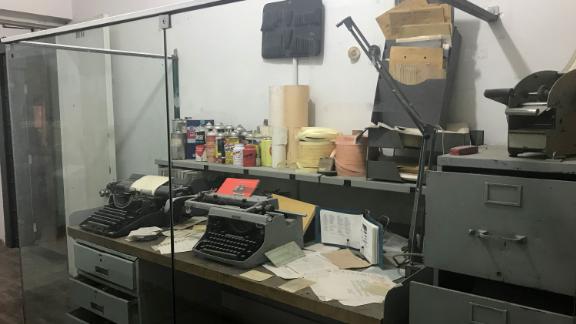 Salma Abdelaziz/cnn
Taking part in a paid tour of the building are Jim and Gladys Strain from Riverdale, New York. They say they have been to every country in the world, and first came to Iran in the 1950s, on their honeymoon. Professors of psychiatry and nutrition, they have come back, they say, as they've never seen the country's south.
"People are wonderful, they are friendly, welcoming," said Gladys Strain. "They offered us roses at the airport."
Her husband added: "We are disgusted with our president. He is misbehaving." US foreign policy was dictated by its close relationship with Iran's regional adversaries of Israel and Saudi Arabia, he said.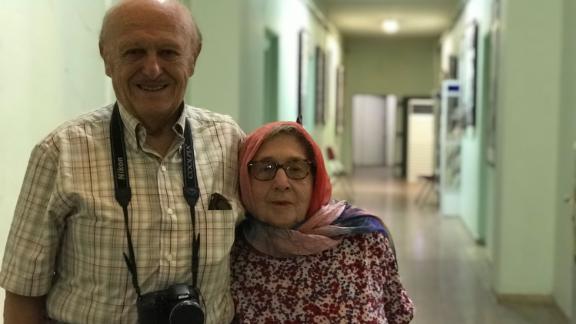 nick paton walsh/cnn
This is the curious paradox of the standoff between the "Great Satan" and the country Trump once threatened with a crushing military response. When their people meet, they appear to get along okay. It's just their leaders – Iranian conservatives and American Republicans – who regularly clash.
In Kubaba, a swanky and fashionably lit Lebanese restaurant uptown, this scope for greater harmony blooms. The music throbs through the fairy lights, and the mocktails flow.
Romina and Roseanna are sisters who spend much of the year in Europe, speak fluent English, and admit they are "well off" and so have a cleaner view of the West.
"People look up to Americans, they try to recreate that way of life," said Romina, aged 22. "They don't hate them at all."
Take away the headscarves and drop some rum into the mojito and – in the decor inspired by the owner's time in California – this could be Europe. Yet around the cafe is a world of uncertainty, where sanctions are changing the things you used to be able to rely upon.
"Every day is something different," said Romina's sister Roseanna, 24. "What's going to happen in the next 15 years? We don't even know what's going to happen tomorrow."
Salma Abdelaziz/cnn
Hamid spends much of his time in Europe and is a businessman with a clear view that Iranians mostly see the difference between hardline American Republicans, more compromising Democrats, and don't hate their electorate.
"Most of the Iranian people used to travel to America, now with the sanctions I am not sure," he said. "They are fed up with the politics, but with the American people, no."
As an Oreos birthday cake sparkles its way on a waiter's tray towards the gaping smile of a chubby 8-year-old. No different from anywhere in the West, yet a world of crippling sanctions away.