Arlington, Virginia
CNN
—
There are no moldy pipes or electrical wires hanging from the ceiling in the new headquarters for President Donald Trump's 2020 campaign.
The walls aren't lined with an eclectic assortment of Trump swag and fan mail. There is no "wall of shame" exhibiting pictures of vanquished rivals. Staffers work at desks and in sleek, glass-doored offices rather than huddled behind plastic folding tables surrounded by unpainted dry wall.
In almost every way, the effort to re-elect Trump is a stark contrast to the insurgent, chaotic bid that propelled him to the White House in 2016. Moving out of the bare-bones production offices of "The Apprentice" in Trump Tower and into shiny, modern offices in the Washington suburbs is just the beginning.
Nearly 20 months out from the presidential election, the Trump campaign is already more organized and better-structured than its 2016 predecessor ever was. It's hired dozens of staffers, expanded its already impressive data operation, and begun to build out a formidable ground game across the country.
It's also raised (and spent) a record amount of money for a presidential re-election campaign at this stage. The campaign ended 2018 with $19 million in the bank, after raising more than $100 million alongside its joint fundraising committees over the first two years of Trump's presidency.
Perhaps the most significant difference is the relationship the campaign has with the Republican National Committee. Compared to the uneasy, bolted-on partnership forged in the final sprint to Election Day in 2016, the Trump campaign and RNC are now practically one entity. Under an unprecedented agreement announced earlier this year, the two merged their field operations and fundraising efforts and will share office space.
Under this setup, the RNC will pay for and provide much of the infrastructure, and the Trump campaign will call the shots.
The joint Trump/RNC re-election outfit, Trump Victory, is already putting its ground game in motion, with two deputy political directors and nine of 10 regional field directors hired and plans to deploy state directors in all key battleground states by early this summer, two senior Trump campaign officials said.
The result, according to interviews with 16 Trump campaign officials, Republican operatives and White House officials, is a presidential re-election campaign unlike any other at this early stage. That's partly because the Trump campaign never actually ended. Trump filed for re-election just hours after his inauguration on January 20, 2017, something no other president has ever done. Both Presidents Barack Obama and George W. Bush had been in office for more than two years before they filed for re-election.
By getting out of the gate so early, the campaign has also been able to foot millions of dollars in legal fees — some to cover the expenses of the campaign and Trump associates caught up in federal and congressional investigations. The campaign and its supporting outside groups have also provided a soft landing spot for a handful of former White House aides and family members.
While Democrats are only just beginning their primary squabble, Trump campaign aides say they're sitting on a juggernaut. Whether Trump — who has a track record of sabotaging his aides' best-laid plans — takes full advantage of the operation remains to be seen.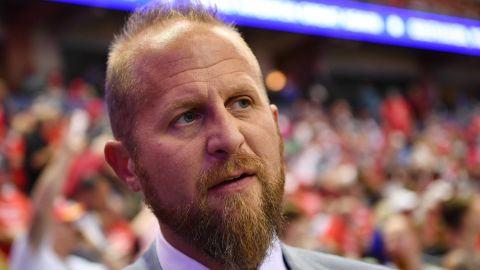 In charge of it all is Brad Parscale, a 43-year-old, 6-foot-8 digital marketing executive who had no campaign experience until he was hired as the 2016 campaign's digital director. Before that, Parscale spent several years running an online marketing business and building websites, including for the Trump Organization.
Since Trump tapped him as campaign manager a year ago, Parscale has quietly developed a highly structured re-election organization that will be driven by a data-centric approach that reflects Parscale's digital marketing background.
"We now have an operation and time to build that — a building that has proper desks in it and proper things," Parscale said in an interview with CNN. "Last time — not for any fault of some of the people that run it — but it just was fly-by-night sometimes because it was going so fast."
Parscale also has one key advantage he didn't last time: "We already have the President of the United States," he says. "We have the incumbency, we know where we're going."
Still, he has his work cut out for him. Trump is among the most unpopular presidents in modern history, having never breached the 50% approval mark in polling averages. He's also under investigation on a number of fronts. Congressional and federal investigators are probing his administration as well as his business, his inauguration committee and his foundation. That's all helped fuel a tide of liberal enthusiasm that swept Democrats to victories in last year's midterms, including in many swing states that were critical to Trump's narrow path to victory in 2016.
To win, it's crucial that Parscale mobilizes Trump's avid core of supporters. The campaign is already turning its attention to addressing Rust Belt warning signs, with Trump planning to rally supporters in Michigan next week. It will be the 56th rally of his presidency, a staple of Trump's campaign style that will remain central to his 2020 effort.
Beyond data analytics, field operations, fundraising and advertising, the election will likely come down to voters' charged feelings about a controversial President. Parscale sees Trump as his ace in the hole.
"When the President and this campaign gets ready to go full speed again, the President will turn on every ignition switch that's necessary to get the enthusiasm back. Anyone who doesn't think that this president will go 5 million miles an hour, day and night, to bring enthusiasm back and talk about what he can do next — they don't know him," Parscale said.
Turning rallies into "real data machines"
On a February night in El Paso, Texas, chants of "build that wall!" fill the El Paso County Coliseum as Parscale confidently strides onto the stage with a box of "Make America Great Again" hats under his arm. Without undoing the top button on his expertly tailored three-piece suit, he tosses several hats into the crowd before reaching for the microphone.
"I am feeling the enthusiasm in here tonight! You gotta understand, though, this is our first rally for this presidential cycle, so you guys gotta be extra loud today," Parscale says as the crowd breaks into a raucous cheer.
Parscale has become a staple of the pre-programming at Trump rallies — a stark departure from the behind-the-scenes role he played in 2016 running the campaign's digital operation.
In that role, Parscale pushed the campaign to spend half its ad budget online, a move that initially left Trump fuming at Parscale, but is now one of the reasons he sits atop the campaign. Already in 2019, the Trump campaign has spent $3.5 million on Facebook ads and another $1 million on Google, according to public spending data analyzed by communications firm Bully Pulpit Interactive. That's nearly double the combined online ad spending for the full Democratic field of presidential candidates.
Back in 2016, that sort of precise targeting of voters through digital ads would not have worked without the RNC's data operation, the byproduct of a multimillion-dollar investment spurred by the Republican defeat in 2012. RNC operatives credit Parscale with encouraging Trump campaign officials to use what they'd built.
"Brad was able to go through the hierarchy up to the President, with Jared (Kushner), with (Steve) Bannon with Kellyanne (Conway), with everybody…and he was able to go and say, I looked under the hood and they have this amazing machine," a former senior RNC official said.
Now campaign manager, Parscale is putting data at the core of the re-election campaign's efforts. Standing at the lectern in El Paso, Parscale quickly reveals his true interest in these rallies when he whips out his phone and asks the crowd to "text WALL" to a specific phone number.
"That's how we can connect with you and that's very important to helping us win in 2020," Parscale explains as he entices the crowd with a sweepstakes-like promises of free campaign swag.
Just like in 2016, the campaign is capitalizing on Trump's ability to draw thousands of supporters — many of whom are infrequent voters or non-traditional Republicans — to expand their voter data files and improve turnout. Now, the campaign is focused on getting even more granular data out of rallies and marshaling that energy into volunteer work, turning the rallies into "real data machines," as Parscale says.
The El Paso rally is an important step in that direction. Outside the coliseum, volunteers use handheld electronic ticket scanners for the first time to confirm which supporters have actually shown up, instead of simply tracking which ones sign up for a ticket on Eventbrite. With this data in hand, the campaign determines that half the rally attendees are registered Democrats, and that 23% hadn't voted in any of the last four elections — crucial information in identifying voters it might not have otherwise known to target.
The scanners also give the campaign access to the phone numbers of some of Trump's most motivated supporters, which the campaign plans to use to boost its ranks of volunteers — something they felt was a shortcoming of the 2016 campaign, two senior Trump campaign officials said.
"What we did not do a good enough job of was to activate them into their neighborhoods," Trump campaign political director Chris Carr said of rallygoers in 2016. "That's what we're going to do this cycle. Because when we activate them into their neighborhoods, it just grows. The army (of volunteers) grows."
The campaign is aiming to have at least 1.5 million volunteers for the presidential election, a senior campaign official said. There's even an app that's in development.
"We need to give them digital technology right on their phone," says Parscale. "As they're waiting for the President, while they're standing outside or a couple of days before when they're excited, they're interested, they're speaking of, 'I'm going to go see the President' and say, 'Hey, here are some activities we'd like you to do.'"
If there's one aspect of the re-election operation that Trump campaign and RNC officials are most confident in, it's their data operation. It was crucial in helping to steer digital advertising dollars with precision and direct resources to midwestern states that proved to be the difference. Now, the Trump campaign and RNC have had two years to improve their synergy, collect more voter data and perfect their voter targeting, and they believe they have a critical edge over Democrats.
Republicans' voter database has long lived in a shared data exchange called The Data Trust, which allows a slew of Republican groups — from campaigns to state parties and even super PACs — to feed in and extract voter information. Democrats — whose data analytics outpaced Republicans' in 2008 and 2012 — are now playing catch up.
"I think, right now, we're not competitive," said former Gov. Howard Dean, a former presidential candidate and DNC chairman who has been tasked by the Democratic National Committee with creating the Democrats' version of The Data Trust. "They've been doing this the right way for two cycles and you know the DNC has really started out in a hole. You know, we have basically 12 months or so to get us in shape."
"I'm not the least bit panicked about it, but we don't have a lot of time," he added.
Conductor of the Trump train
Standing outside the coliseum in El Paso, Parscale towers over the crowd. He's popped outside for a few minutes to survey the snaking line of supporters, knowing that the President will ask him about the crowd size when he shows up in three hours, especially with the Democratic sensation and former Rep. Beto O'Rourke leading a counter-rally just a few blocks away.
"I want to make sure we fill it and I want to see how much we back-fill it outside," Parscale says, before predicting 8,000 supporters will fit inside the 6,500-capacity coliseum. Even that hyperbole wasn't satisfactory for Trump. That night from the stage he claimed that, with the help of the fire department, 10,000 people fit inside the coliseum, a claim the fire department later denied.
While Parscale's height might give him an edge in the eyes of Trump, who famously likes to surround himself with tall people, it's not the reason he has his current job.
The unconventional selection was borne largely out of Parscale's close relationship with the President's family, namely Eric Trump and Jared Kushner. Eric initially hired Parscale in 2011 to build websites for the Trump Organization. Kushner recognized his digital savvy during the 2016 campaign, quietly elevating the Trump campaign digital director to a role that many on the campaign likened to that of a deputy campaign manager.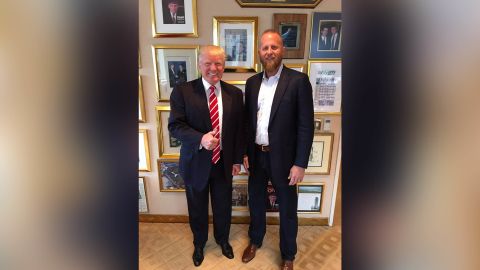 Parscale is almost universally well-liked and respected inside Trumpworld, a rarity considering it's rife with intense rivalries and backstabbing, though two sources familiar with the matter reported tension between Trump's 2016 campaign manager Corey Lewandowski and Parscale. In an effort to keep the peace, Parscale recently began convening a regular "kitchen cabinet" conference call with a group of former top Trump campaign officials and informal political advisers, from Lewandowski to pro-Trump activist Charlie Kirk, seeking their input and sharing updates about the campaign, two sources familiar with the calls said.
The Kansas native-turned-Texas transplant also knows where he stands vis-à-vis Trump.
"I've always said, he's the campaign manager, the communications director, the finance director — he is the master of the Trump train and I'm a conductor on it," Parscale says back in the campaign offices.
Parscale typically speaks with the President at least once a week by phone, two sources familiar with the matter said. He talks to Kushner nearly every day. The President's son-in-law has been a quiet force behind many of the campaign's early efforts to prepare for 2020 and will serve as Trump's primary go-between with the campaign.
In 2016, Trump micromanaged much of his campaign , and he is already keeping close tabs on the re-election effort. Multiple sources close to the President said he will be the ultimate driver of his re-election strategy.
During a recent meeting in the White House residence where Trump campaign officials outlined the structure of the campaign for the President and vice president, Trump was locked in, two sources who attended the meeting said, even as the meeting stretched for an hour and a half.
Trump also flashed his penchant for keeping a close eye on the money, cheering the forthcoming hire of an in-house legal counsel, which is aimed at reducing the campaign's legal bills.
"I love that!" Trump exclaimed, the two sources said.
The road to Charlotte
While nearly nine in 10 Republicans tell pollsters they approve of Trump's job as President, his presidency has provoked more intra-Republican bloodletting than any other in modern history. Since he took office, there has been rampant speculation about which Republican would mount a primary challenge.
So far it's just one— former Massachusetts Gov. Bill Weld, who ran for vice president on the Libertarian Party ticket in 2016. Former Ohio governor and CNN senior political commentator John Kasich is said to still be mulling a possible primary challenge, and Maryland's Gov. Larry Hogan has recently emerged as a possible alternative.
The campaign isn't leaving anything to chance, and is working hard to close off as many pathways to the RNC convention floor as possible.
Two former White House officials, Bill Stepien and Justin Clark, are heading up a small team of Trump campaign officials whose singular mission is to ensure the 2020 RNC convention in Charlotte, North Carolina, is "drama-free."
They have already hit the ground, heading off any cracks in support for the President at the state party level by working to ensure that RNC convention delegates and state party chairs elected this year are reliably pro-Trump.
At the national level, the merger between the Trump campaign and RNC is sending a powerful message that Trump and the Republican Party are synonymous. RNC Chairwoman Ronna McDaniel has proved a fierce defender of the President, even firing off missives at her uncle, Utah Sen. Mitt Romney, after he penned an op-ed critical of Trump. The RNC has since also installed Tommy Hicks, Jr., a Texas businessman and close friend of the President's eldest son, as co-chairman.
While part of the campaign's team is focused on heading off primary challenges, the campaign and the RNC are focused on building out a formidable general election ground operation.
Led by Carr, the political director, the campaign is planning to deploy staff into key battleground states by early this summer, a full year before the two parties formally nominate their candidates for the general election.
The campaign has hired regional directors for all but the upper Midwest region and is preparing to hire state directors who will manage the Trump campaign and RNC efforts in each state. Carr is requiring all state directors to undergo and pass a weeklong training course this spring before they are hired — even if they already currently serve as RNC state directors, according to a senior Trump campaign official.
The deployments will allow the campaign to turn its attention early on to engaging and deploying field workers and volunteers into "turfs," territories comprised of 15,000 households the Trump campaign plans to target in 2020. Residents in those households are either fervent Trump supporters who vote infrequently or reliable voters who are leaning toward supporting Trump but are not yet "in the bank," in the words of a senior Trump campaign official.
It's a similar effort to the ground game the RNC ran in 2016 — except this time it is beginning early, and supercharged.
The money
None of this would be possible without raising a record amount of money. The Trump campaign and its affiliated committees have raked in nearly $130 million over the past two years. That's given it a financial advantage that Trump campaign officials say will allow them to vigorously compete in more states than they did in 2016.
A super PAC and nonprofit organization supporting Trump — America First Action and America First Policies — raised an additional $75 million, according to a spokeswoman for the combined America First operation. Both are closely aligned with the President, with a coterie of former Trump aides helping to develop them. Parscale is one of the founders of America First Policies but is no longer involved.
The super PAC, America First Action, spent heavily on ads to boost Republican candidates in 2018, burning through most of its money. The organization also serves as home to some key Trump loyalists, including former White House press secretary Sean Spicer, who serves as a senior adviser and spokesman for the group, and Kimberly Guilfoyle, a former Fox News host who is dating the President's oldest son, Donald Trump Jr. Guilfoyle is the group's vice chairwoman.
For all of its fundraising prowess, the Trump campaign has burned through donors' contributions at a fast clip.
In the last three months of 2018 alone, according to a CNN review of FEC records, the campaign spent $23 million — exceeding the $21 million that Trump and his political operation with the RNC raised in that time. The campaign plowed nearly a third of its money — $8 million — into advertising, as it worked to boost its data gathering and drive support for Republicans in the midterm elections. Another $2 million went to purchasing campaign swag — the T-shirts, mugs, stickers and "Make America Great Again" hats — that his avid supporters snap up.
Over the past two years, some of the campaign's money has flowed directly to Parscale's own businesses. Between the Trump campaign and the RNC, Parscale's firms have pulled in more than $21 million for services including digital consulting, online advertising and fundraising.
Parscale has said that much of that money goes directly toward purchasing advertising and other expenses, but he declined to provide a detailed accounting of the spending and how much he has profited from his business with the RNC and Trump campaign.
He points out that unlike other political consultants, he will not earn a percentage of the campaign's ad buys, instead agreeing to a $300,000 annual retainer with the campaign, plus bonuses.
"In the last election, I was hired as an advertising agency and we received a percentage. After that, I felt like as campaign manager it would seem not very ethical and very good of myself to pay myself a percentage for my own decisions," Parscale said. "I know a lot of guys in this industry that do that. I feel differently about it."
Legal Fees
The campaign's fundraising has also served another crucial function: paying the legal bills of Trump campaign officials and family members.
In the first two years of Trump's presidency, donors to the Trump campaign have underwritten more than $6.7 million in legal expenses — more than $1 out of every $10 the campaign has spent on operating costs — at a time when the President, his family and aides have had to respond to federal and congressional investigations stemming from Russian interference in the 2016 campaign.
That's nearly as much at the $7.4 million President Barack Obama's campaign spent on legal services during the entire eight years of his presidency, according to a CNN analysis of Federal Election Commission records.
The bulk of the campaign's spending on legal fees — nearly $4.4 million — has gone to the law firm Jones Day, which handles the campaign's FEC compliance and document request matters. Almost all the remaining $2.3 million has flowed to other law firms, several of which represent Trump campaign officials and Trump family members swept up in the Russia-related investigations.
More than $317,000 of those legal expenses have been paid out to firms representing Donald Trump Jr., who brokered the now-infamous Trump Tower meeting in the summer of 2016 with a Russian lawyer promising "dirt" on Hillary Clinton from the Russian government.
And firms representing former Trump campaign manager Corey Lewandowski, former Trump bodyguard Keith Schiller and Kushner have been paid nearly $366,000 by the campaign. A spokesman for Kushner's attorney said payments to his firm were related to the DNC's lawsuit against Trump's campaign officials, including Kushner.
Back at its gleaming new office space in Virginia, Parscale proudly claims the campaign saved hundreds of thousands of dollars by subleasing a fully furnished office — which was a trading floor for a financial company — after that company was purchased and downsized.
Savings aside, some Trump political advisers worry the campaign will lose the "start-up mentality" that defined Trump's stunning 2016 victory as it becomes a more traditional national campaign — modern office space and all.
"You kind of still have to keep that — I don't want to say fly by the seat of your pants — but that's what made this campaign very successful," one Republican operative close to the campaign said. "You don't want to have a thousand layers and become some giant corporation where you can't make a decision."
Parscale is mindful of the criticism and wary of the campaign being cast as too "traditional." This won't be a campaign that will grow to "400 employees in 400 offices across America," he says.
And if there's anything he can lean on to make his case, it's his own nontraditional background.
"I don't think there's anything traditional about me," he said. "I think that I was the right hybrid for the President."
CNN's Bridget Nolan and Aaron Kessler contributed to this report.