Republicans on Capitol Hill are raising alarms at the White House's resistance to congressional demands, fearing President Donald Trump is bolstering the power of his office at the expense of Congress.
The White House has stonewalled House Democrats on nearly all aspects of their sprawling investigations into the President, refusing to provide documents as requested by committee chairmen, preventing former White House officials from complying with Democratic demands and fighting subpoenas pertaining to the US Census and the administration's handling of the security clearance process.
All this comes ahead of an already roiling conflict over the release of and redactions in special counsel Robert Mueller's report, which Attorney General William Barr said during a recent, high profile hearing in Congress would be released in the coming days.
Trump has also come into conflict with Republican lawmakers over personnel and legislative strategy. In the past few months, Trump pushed for them to return to the politically risky fight to replace the Affordable Care Act. He considered nominees key Republican senators don't want for the Federal Reserve Board of Governors. And he pulled another — Ron Vitiello to lead US Immigration and Customs Enforcement — that Republicans actually liked.
"This is a non-traditional presidency," Sen. John Cornyn, a Texas Republican and member of the GOP leadership team, when asked about the White House circumventing Congress. "And the President now believes he doesn't need a lot of advisers because he wants to do it himself."
The White House has also ignored the growing concerns from GOP senators over Trump's reliance on acting secretaries to run his Cabinet, a move that allows them to avoid the Senate confirmation process and his officials to temporarily escape nomination hearings intended to get their positions on the record and accountable to oversight.
Republican Sen. Ron Johnson, the chairman of the Homeland Security Committee, called it "not a good situation."
"I think this is the way our system needs to work — with checks and balances," said Johnson of Wisconsin.
While Republicans acknowledge that Democrats have made the confirmation process harder, they are calling on the Trump administration to name permanent heads.
"An acting person is there, after all, for a limited period of time, and you do want to have as much continuity in leadership posts as possible," said Sen. Mitt Romney, a Republican of Utah.
"I do think the acting secretary issue is problematic because it doesn't give us as members the oversight that we need to have," said Sen. Shelley Moore Capito, a West Virginia Republican.
While there's historically tension between the Executive Branch and Legislative Branch, even Republicans acknowledge there's a key difference in this situation: The President is ignoring Congress, and often federal law, to try to achieve his objectives. The Trump administration has pointedly blown off bipartisan demands to comply with federal law to determine the role the Saudi crown prince played in the murder of a Washington Post journalist.
"I think there will be continued pressure from Congress to do more," Sen. Cory Gardner, a Republican of Colorado, told CNN.
"I think he's trying what he believes is a presidential approach, where many of us look at it and say the President is making this more difficult than what this has to be," said Sen. Mike Rounds, a Republican of South Dakota.
Nowhere is the divide between Republicans on Capitol Hill and the White House clearer than on immigration, including his push to send detained migrants to sanctuary cities represented by Democrats.
Asked if it were a good idea to pursue the sanctuary city idea, Sen. John Kennedy said: "No, not for me."
"The President has chosen to use a stick," said Kennedy, a Louisiana Republican. "He may ultimately be right, but I would try and use a carrot too."
Putting it another way, Republican Sen. Rick Scott of Florida said Sunday that Trump might just be trying to "make everybody crazy."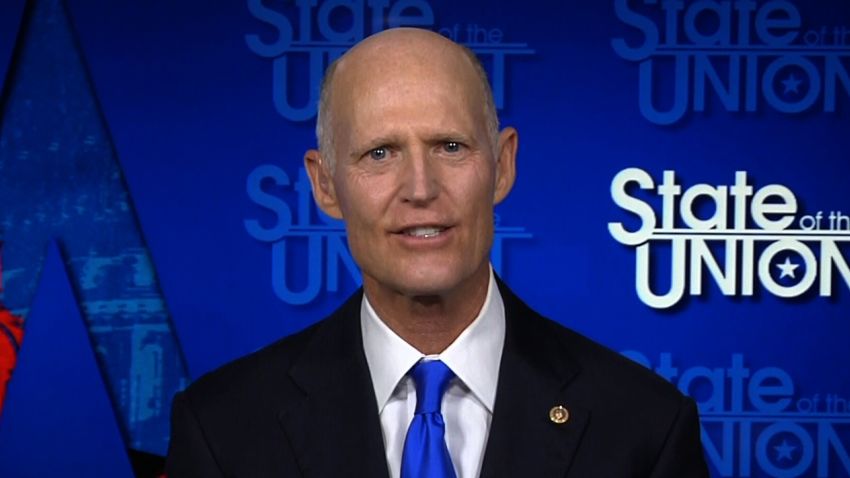 Scott on Trump tweet: Maybe trying to make everybody crazy
"I don't know whether it's legal or illegal," Scott told CNN's Jake Tapper on "State of the Union" when asked about the proposal. "I mean, maybe he's just saying this to make everybody crazy, make everybody talk about it on their shows."
Scott added: "But what I do know is I've been up there – I've been in the Senate for 90 days, we're not securing our border. We're not enforcing our laws."
Although most Republicans support Trump's moves to build the border wall, a number are uneasy that the White House has cast aside the bipartisan will of both congressional chambers to administratively dole out billions for the project, testing the role of Congress' constitutional role to appropriate money.
Capito, the appropriator in charge of homeland security funding, said Trump's move is going to make it harder to deal with the border security money in future spending bills.
"I'm looking at my bill and I'm going, 'How do we get there?' And I think that's an issue that's going to follow through on subsequent years of funding, and it's going to be a problem," she said.
The disconnect extends to considering nominees. Johnson said he was "caught off guard" by Trump's decision to pull the Vitiello nomination, saying the ICE nominee had done a "really good job" meeting senators and addressing their concerns.
Johnson said the administration had been contemplating remaking the management of the Department of Homeland Security.
"But you'll have to talk to them about the reasons and rationale for it," he added.
Trump's GOP defenders in the Capitol say that he is often forced to act alone because Democrats are dead-set on trying to frustrate all aspects of his agenda. When there's an idea they resist, such as Trump's call to pursue health care legislation, ultimately they push back and the White House backs down. Plus, they say they are easily able to get him on the phone – whether they intend to or not.
"I hardly ever had a president ever call me on my cell phone," said Sen. Chuck Grassley, the Senate Finance Committee chairman. "And this President has called me a lot on my cell phone."
CNN's Devan Cole contributed to this report.