After struggling with anxiety and depression for years, Christian Lewis, a former paratrooper from Wales, had hit an incredibly low point and realized he needed to make some drastic changes in his life.
On the verge of becoming homeless for the second time, the single father made a "split-second decision" to leave everything behind.
A few days later, with the equivalent of just $12 in his pocket, Lewis bid farewell to his daughter Caitlin, who had recently left home, and set off from Llangennith beach in Swansea, Wales, in August 2017 with the aim of walking the entire UK coastline.
He launched a fundraising page for armed forces charity Ssafa, which he'd sought help from when he left the army in 2004, shortly before he set off.
Nearly six years later, Lewis, now 42, is just a few months shy of completing the 14,000-kilometer (around 8,700-mile) hike and has raised over £320,000 (around $400,000). But he's no longer walking solo. In fact, he now has three companions.
Over the course of the journey, Lewis met and fell in love with former teacher Kate Barron, 36, who has joined him, and dog Jet, who he'd picked up in Northern Ireland about nine months in. The couple have since had a son, Magnus.
"We're now walking as a little family," Lewis tells CNN Travel. "We're a tight knit little group."
Life-changing journey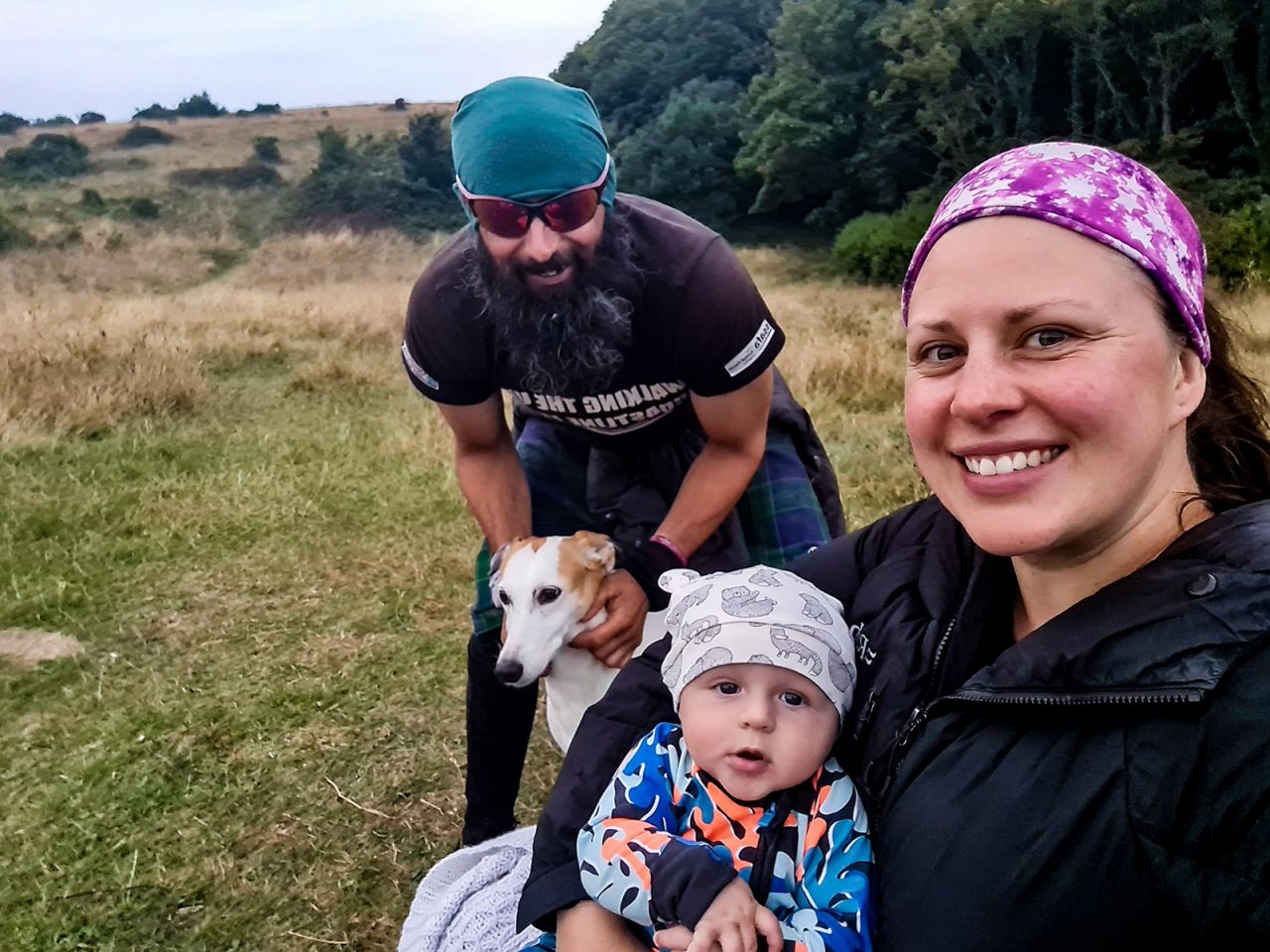 As he approaches the final section of the walk with Barron, Magnus and Jet beside him, Lewis, who has been documenting his journey via his Facebook page, Chris Walks The UK, can't help but reflect on what has been a truly life-changing adventure with absolute wonder.
And to say there have been many twists and turns throughout his journey is something of an understatement.
After making his way up the west coast towards Scotland from Swansea, Lewis took a brief detour to Northern Ireland, where he returned a message in a bottle thrown into the Irish Sea more than two decades ago that he'd found washed up along the Scottish coast.
He then decided to walk the coast of Northern Ireland, before returning to Scotland to walk the Shetland Islands, located around 160 kilometers (100 miles) north of the mainland.
Lewis was close to completing the Shetland archipelago, which has 300 islands and skerries, of which only 16 are inhabited, when the Covid-19 pandemic hit and the UK went into lockdown in March 2020.
He quickly found himself stranded on the remote island Hildasay, located off the coast of the Shetland Islands, which measures less than half a square mile.
"I was far more than halfway through my journey," he says. "At the time, I estimated that I had about a year left, but obviously, things changed."
Lockdown on an uninhabited island
After spending three months on Hildasay, Covid-19 restrictions were relaxed and Lewis was able to continue on, spending around three and a half weeks walking the rest of the Shetland Islands. He then got a boat back to the mainland, and started heading south.
While he mainly foraged and fished to survive, Lewis also relied on donations of food, water and equipment from well wishers.
Lewis was camping near the Whaligoe Steps, a stairway of 365 steps that descend down a cliffside to a natural harbor, when he met Barron, who had been wild camping around North Coast 50, an 830-kilometer (516-mile) route along Scotland's northern coast, after leaving her job as a teacher at a London school.
"I was hiking and wild camping and just happened to go down to the bottom of a cliff on my last day of the trip," Barron says. "And then I met